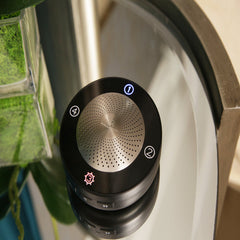 As you know, we have been specializing in driveway alarm systems since 2012. Myhosmart.com has two brands, eMACROS and Hosmart which have been recognized as Amazon's best seller and Amazon's choice.
We often got messages from customers asking for recommendations or the differences.
So today here's an article making our unique advantages clear and comparing our different models, so this also could help you about how to choose the right driveway alarm system.
When choosing the driveway alarm, the factors which are often considered are transmission range, detection range, sensor type, weather resistant, concealment, receiver zone and power type. Let's analyze one by one as follows.
Transmission Range
All of our driveway alarm systems have a super long range which is half a mile in ideal situations. The distance is double that of most competitor's. Obstacles and metal interference would affect the range.
Detection Range
The sensor of eMACROS ½ mile 4-zone solar driveway alarm has two sensitivity options for the detection range. You could choose either high or low mode under the water-proof rubber seal of the sensor. The high mode is 30ft. The low mode is 20ft. The sensor angle and height also affect the range.


Sensor Type
Passive infrared sensor (or PIR sensor) is the most-widely-used motion sensor in home security systems. A passive infrared sensor detects body heat by looking for changes in temperatures. Once the PIR motion sensor warms up, it can detect heat and movement in the surrounding areas, and the infrared sensor triggers an alarm.
Weather Resistant
Sensors are mounted outside so this feature is very important. The sensor should be water-proof and hold the difficult weather like rain, hail, and high winds. The working temperature range of our sensors is from -20℃ to 60℃ or -4F to 140F.
Concealment
Besides alerting you of incoming cars or people to your home, perhaps a driveway motion sensor being discreet is another good feature. A hidden sensor can do much to identify trespassers that enter your property without alerting them. We chose most of our driveway alarm systems to be brown, yellow or white which is close to the color of trees, fences due to this.
Expandability 
eMACROS 1/2 Mile 4-Zone Solar Driveway Alarm Kit
Hosmart 1/2 Mile 4-Zone Rechargeable Driveway Alarm Kit
The receiver has 4 zones which support up to 4 sensors. 4 different tones allows you to distinguish which sensor was triggered and prevent interference from the neighbor's sensor signal. The volume is adjustable.
eMACROS 1/2 Mile 7-Zone Solar Driveway Alarm Kit

The receiver supports up to 7 sensors on each zone. 7 different tones allows you to distinguish which sensor was triggered and prevent interference. Volume is adjustable.
Power Type
Rechargeable batteries are good because they can save you from always having to change them out. Solar-powered is the best because it would have the solar panel on the sensor and actually it also has a rechargeable battery inside, so the lifespan would be longer. Even though there's little sun and the sensor was fully charged, the power can last up to 6 months or even 1 year.

Do you have an idea how to choose your driveway alarm now? Click the photos or here and shop now! If you need more help, just simply contact us.