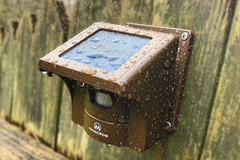 eMACROS 1/2 mile solar driveway alarm kits have been the best-seller on Amazon since 2019. 
All of our driveway alarm kits have 1/2 mile wireless long range for the sensor and receiver. This collection features our solar and rechargeable sensors. 
The 4-zone kit has the 4-zone receiver which supports up to 4 sensors and the 7-zone kit also has two color options. 
Extra receiver and sensor are also included in this collection.
Shop Collection
Our Hosmart collection includes rechargeable driveway alarm, wireless intercom system and wireless security camera system. 
The Hosmart wireless intercom systems have been listed as Amazon's Choice since 2017 and Editorial Recommendations for one of the best intercom systems in the US.
The 7-channel and 10-channel intercom system can support up to 1/2 mile wireless range, while the 6-channel system has exceptional voice quality.
The 1/2 Mile 4-zone Rechargeable Driveway Alarm Kit has also won "Amazon's choice" recognition. It has 1/2 mile wireless long range, twice as long as most of our competitors. 
Shop Collection